The Chodai Group to develop industrial park on Mindanao Island in the Philippines
2013/04/03
On March 12th, Chodai Co., Ltd. and group company Kiso-Jiban Consultants Co., Ltd. ("Kiso-Jiban") signed a memorandum of understanding (MOU) with Equi-Parco Construction Company, the largest general contractor on Mindanao Island headquartered in Butuan City, and Twinpeak Hydro Resources Corporation ("Twinpeak", also headquartered in Butuan City), on the joint development of a new industrial park specializing in agriculture, forestry, fisheries and food processing on a 141ha site owned by Equi-Parco and Twinpeak in Butuan City in Agusan del Norte province in the north-east of Mindanao Island.
Chodai and Kiso-Jiban (the "Chodai Group") reached an agreement with Equi-Parco and Twinpeak on the joint establishment of a special-purpose company (the "SPC") for the development and management of the special economic zone. The Chodai Group will also dispatch one company executive on a part-time basis and plans to get actively involved in the project as a developer.
In addition to investing in the SPC and dispatching a company executive, the Chodai Group intends to provide consulting services in the wide-ranging areas listed below, and aims to develop industrial parks based on Japanese standards. The Chodai Group plans to proactively attract Japanese companies to both participate in the development of, and then set up local subsidiaries in, the industrial parks.
- Support for planning and management of the whole project
- Consulting services related to the infrastructure field during development of the special economic zone
- Acting as an intermediary for Japanese companies participating in the development of the special economic zone
- Providing access to the Ministry of Economy, Trade and Industry, the Ministry of Agriculture, Forestry and Fisheries, JICA, JETRO, and other Japanese government agencies; Arranging funding for FS studies and other grants
- Arranging low-interest loans from Japanese government financial institutions such as JICA and the Japan Bank for International Cooperation (JBIC)
- Consulting services for attracting Japanese companies to set up local subsidiaries in completed industrial parks
- Future participation in water and power supply projects in industrial parks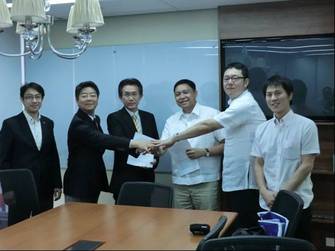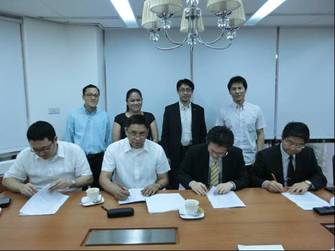 Signing ceremony