Improving the work environment
Becoming a company that pioneers novel work styles
We, at Chodai, promote full-scale diversity and work–life balance initiatives to accept the different qualities and preferred working conditions of employees. We also aspire to create a company that is not bound by prejudices relating to gender or age differences and to promote acceptance of, and adherence to, this value in the broader society.
Having celebrated the 50th anniversary in 2018, the company is accelerating the work style reform by proposing various welfare benefits and work styles. Nowadays, weWe take cognizance of the diversity of our human resources, including employees with family members requiring long-term care, employeeswomen who go through childbirth and parenting, foreign employees, employees with disabilities, and seniors who have been re-employed after retirement. In addition, our company is streamlining business operations by strengthening personnel and organizational management and by accumulating and sharing technological knowledge with the use of ICT.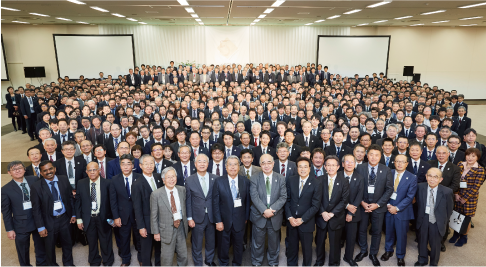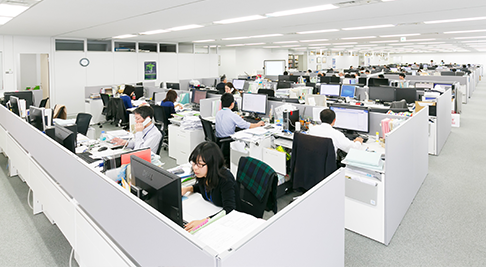 Work–life balance
Supporting work style diversity
We have a wide range of systems for each life event to promote employees' peace of mind at the workplace, thereby helping them be more successful in their careers.
Support for balancing work and parenting
Child care leave: Until the child turns one year old (maximum two years old).
Child care time: twice a day, 30 minutes each,.
Short working hours: Choose from 5.5 hours, 6 hours, 6.5 hours, or 7 hours.
Flexible starting hours: Start of work can be any time between 8:00 a.m. and 10:00 a.m.
Regular working hours: 9:00 a.m.–5:30 p.m. (9:15 a.m.–5:45 p.m. in Tokyo, Osaka, and Nagoya).
Paid leave accumulation: Maximum 10 days.
Support program for employees returning to work after childcare leave.
Re-employment: Full-time employees who resigned of their own will because of reasons relating to childbirth or parenting can be re-employed in fields suited to their career.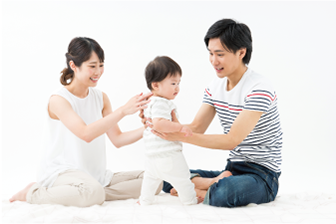 Systems that can be used for any life event
Paid leave on an hourly basis: 5 days (40 hours) per year, usable on a 1-hour basis.
Work in a particular region: Ability to choose one's workplace in case of parenting demands, family care, sickness, and relocation of the spouse.
Telecommuting: When an employee faces much difficulty commuting due to parenting demands, family care, and long-term sickness, telecommuting is allowed.
Work style consultation desk
We have a consultation desk where employees can seek advice on which work styles suit them, depending on their life events.
In-house nursery school
To allow employees with children to work without much parenting worries, we run the "Kakehashi Nursery," an in-house nursery school built in Chiyoda City, Tokyo in cooperation with a nearby company in the same industry.
Chiyoda City, Tokyo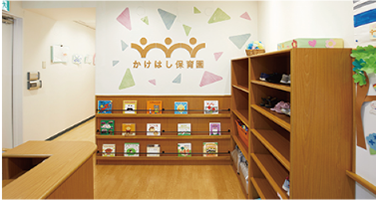 "Kurumin" mark certified
In December 2017, Chodai was certified as a "child care support company" and subsequently received the Kurumin certification from Tokyo Labour Bureau.
This was the result of the company's attainment of the Fourth Term Action Plan (April 1, 2015–September 30, 2017) and compliance with the Kurumin certification standard, which is based on the Act on Advancement of Measures to Support Raising Next-Generation Children.
We will continue to advance the work style reform and create a conducive workplace where employees who give birth or raise children can balance work and parenting.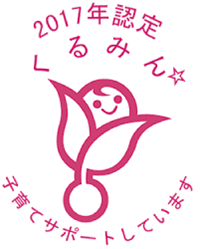 Lifestyle Handbook
To improve the awareness of employees and promote the available work style systems, we created the "Lifestyle Handbook" that provides tips on how to choose a system suitable to one's lifestyle and life stage.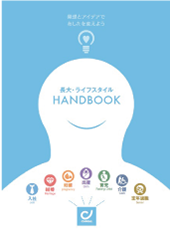 Preventing overtime work
Initiatives to prevent overtime work
According to the changes in the times and society, we identify issues confronting the company from the lens of various perspectives and then work on solving them.
IT working hour management to prevent overtime work
As means of managing overtime work, the company uses the automatic PC switch-off system helping employees become more conscious of time, the need to manage it, and time management's impact on health.
Continuous implementation of "No Overtime Work Day"
We implement "No Overtime Work Day" with other construction consulting companies. We continuously monitor, examine, and report the implementation of this policy, as we also share the goal of reducing overtime work with other companies.
Payment of productivity improvement bonus
The company rewards employees who are able to limit overtime work hours to the target hours set by each department by offering productivity improvement bonus. Under this system, additional remuneration is based on productivity instead of the number of hours spent working.
Promoting the introduction of information technology (IT)
Each division makes efforts to streamline its operations through the introduction of IT, such as the development of robots for inspecting the cables of cable-stayed bridges and on-demand training.
Diversity
Promoting women's success
We, at Chodai, need to provide support and improve the workplace climate to enable women to continue working while balancing work and family/private life.
We are working on developing an environment where women employees can further maximize their potentials and where all employees can fully demonstrate and develop their abilities.
Improving the workplace climate
To establish a network of exchange for women employees, Chodai created the Project for All Women Employees to Shine (7C Project).
We also organize events that help women employees realize their potential and take action, such as the Work–Life Balance Seminar and the Career Design Support Training targeting women employees, which were held in Tokyo and Osaka Branches in November 2018.
We also provide training to members of management to increase their understanding of promotion of women's success.