Participation in water supply project on Mindanao Island in the Philippines
2014/10/16
Chodai Co., Ltd. has made a 5% investment in Taguibo Aquatech Solutions Corporation (the "SPC"), and has decided to participate in a water supply project (the "Project") in Butuan City in the north-eastern part of Mindanao island in the Philippines. The SPC, a special-purpose company which serves as the operating body of the Project, has already signed a concession agreement with the Butuan City Water District for bulk water supply.
Mr. Akinori Ido, Senior Executive Director of the Business Promotion Division at Chodai, attended the ceremony for the signing of the memorandum of understanding (MOU) which took place in Butuan City on October 14th. Present at the ceremony were also the shareholders of the SPC, including Mr. Ronnie Lagnada, Chief Operating Officer (COO) at major shareholder Equi-Parco Construction Company, as well as Mr. Motohide Takano, President of Twinpeak Hydro Resources Corporation, who all signed the memorandum. After the internal procedures of the SPC have been completed, Chodai is set to receive a 5% share transfer from existing shareholders based on the memorandum, and the investment is scheduled to be completed within 2014 (the transfer amount is undisclosed). This is Chodai's first water project both domestically and internationally.
The Project strives to meet the continued increase in water demand resulting from population growth and restrictions on well water use. The SPC is a PPP (Public Private Partnership) responsible for new capital investment and maintenance on behalf of Butuan City Water District which faces severe financial difficulties, and will operate the project over 25 years starting in 2015 with an aim to recover the initial investment and make a profit.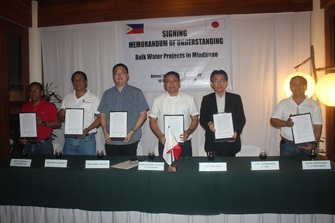 MOU signing ceremony (starting from the third person on the left: President Takano of Twinpeak Hydro Resources Corporation, COO Ronnie Lagnada of Equi-Parco, and Senior Executive Director Ido of Chodai)