Investment agreement signed with local company in Singapore
2014/10/14
On October 12th, Chodai Co., Ltd. and group company Kiso-Jiban Consultants Co., Ltd. signed an investment agreement with local Singaporean company Buro Engineering Pte Ltd. and reached a final agreement on the establishment of Chodai & Buro Engineering Pte Ltd.
As part of the agreement, Chodai and Kiso-Jiban agreed to 39% and 10% investments, respectively.
Buro Engineering (http://www.buroengr.com.sg/) specializes mainly in building construction and design including large housing complexes and hotels, and has a comprehensive track record of large-scale construction. The company has in recent years also actively participated in projects mainly in Asian countries such as Myanmar and India in addition to domestic projects in Singapore. Buro Engineering has previously worked with Kiso-Jiban Singapore on a variety of projects and had already established a mutual friendly relationship. Since the Chodai group will also now join this business scheme, the Asian network will be further expanded to include not only building structures, but also new markets in the fields of bridges, roads, railways, and subways.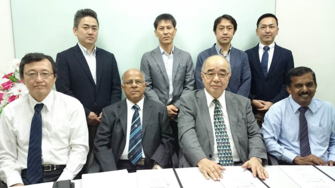 Front row, from the left: Director Orihara (Kiso-Jiban), Mr. Peru (Chairman of Chodai & Buro), President Nagaya (Chodai), Mr. Muru (President of Chodai & Buro)