ABOUT US

Pursuing technology to make dreams come true
Group Companies
Power of the Chodai Group
We optimize the Chodai Group synergy to contribute to resolving all aspects relating to infrastructural issues.
Our business capabilities extend beyond diverse fields through the integration of Chodai and our group companies' unique technology and advanced expertise.
By being unified as a group and leveraging our collective power, we contribute to the well-being of the people by creating new values and innovative possibilities.
Business Areas and Active Fields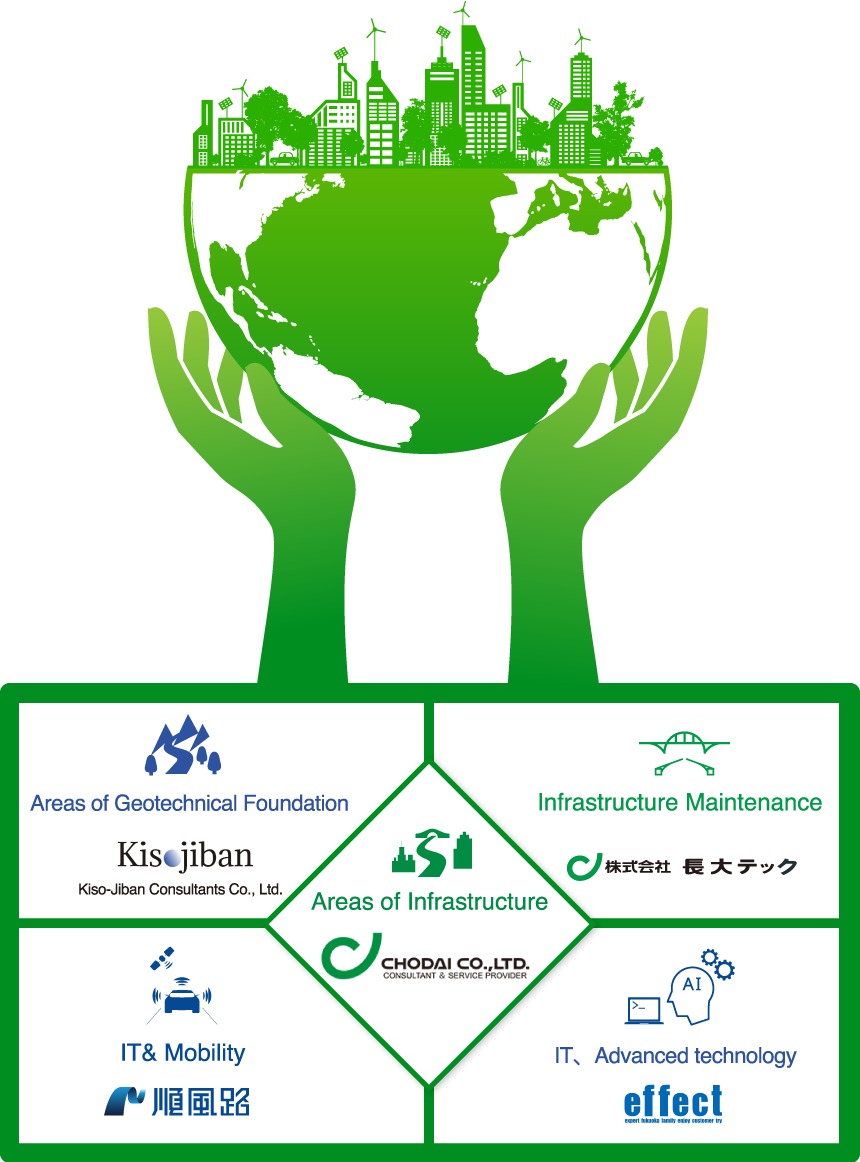 Group Companies
Kiso-Jiban Consultants Co., Ltd.
A leading geotechnical consulting firm, providing a wide range of services in Japan and Southeast Asia, with a focus on soil and geological investigation, in-situ and laboratory testing, numerical analyses, geotechnical instrumentation, civil and structural design, infrastructure maintenance, soil pollution management, and disaster recovery measures.
Kinshicho Prime Tower 12th Floor, 1-5-7 Kameido,
Koto-ku, Tokyo 136-8577, Japan
Tel: +81-3-6861-8800 (Main)
Fax: +81-3-6861-8894
CHODAI-TEC Co., Ltd.
Specializes in maintenance and operation of road management databases and survey inspection of factory infrastructure and contributes to the safety and security of infrastructure in Japan.
1-20-4 Nihonbashi-Kakigaracho, Chuo-ku, Tokyo 103-0014, Japan
Tel: +81-3-3639-3411
Fax: +81-3-3639-3416
JUNPUZI. CO., LTD.
Specializes in road traffic information and provides comfortable road mobility through highly advanced expertise and technology; also involved in the development of on-demand transportation systems and health-related businesses addressing the needs arising from Japan's low birth rate and aging society.
Toshin Higashi-Ikebukuro Building 1st Floor, 5-44-15 Higashi-Ikebukuro,
Toshima-ku, Tokyo 170-0013, Japan
Tel: +81-3-6271-6061
Fax: +81-3-5953-9491
Effect Co., Ltd.
Hakata Sun City Building 5th Floor, 2-1-5 Hakataekiminami,
Hakata-ku, Fukuoka City, Fukuoka 812-001, Japan
Tel: +81-92-409-1723
Fax: +81-92-409-1723
Nanbu-cho Biomass Energy Co., Ltd.
1-20-4 Nihonbashi-Kakigaracho, Chuo-ku, Tokyo 103-0014, Japan
Chodai Capital Management Co., Ltd.
1-20-4 Nihonbashi-Kakigaracho, Chuo-ku, Tokyo 103-0014, Japan
Overseas Group Companies
KISO-JIBAN Singapore Pte Ltd.
60,Kallang Pudding Road #02-00 Tan Jin Chwee Industrial Bldg.,Singapore
KISO-JIBAN(MALAYSIA)SDN.BHD.
№3 Jalan Kenari 17/D, Bandar Puchong Jaya,47100 Puchong, Selangor Darul Ehsan Malaysia
CHODAI KOREA CO.,LTD.
C-1017, 161-8, Magokjungang-ro, Gangseo-gu, Seoul, Republic of KOREA
CHODAI & KISO-JIBAN VIETNAM CO.,LTD.
7th Floor, A Chau Building, No.24 Linh Lang Street, Cong Vi Ward, Ba Dinh District, Hanoi, Vietnam
PT. WIRATMAN CHODAI INDONESIA
GRAHA SIMATUPANG TOWER Ⅱ BLOKA&DLT. 10, JL. TB. SIMATUPANGOKAV. 38 JATIPADANG, PASAR MINGGU, JAKARTA 12540 SELATAN INDONESIA
Chodai Philippines Corporation
Unit 9C, 8 Rockwell, Rockwell Center, Makati City 1210, Philippines
Chodai Taiwan Inc.
6F.-1, No.128, Xinhu 2nd Rd., Neihu Dist. Taipei City 114, Taiwan(R.O.C)